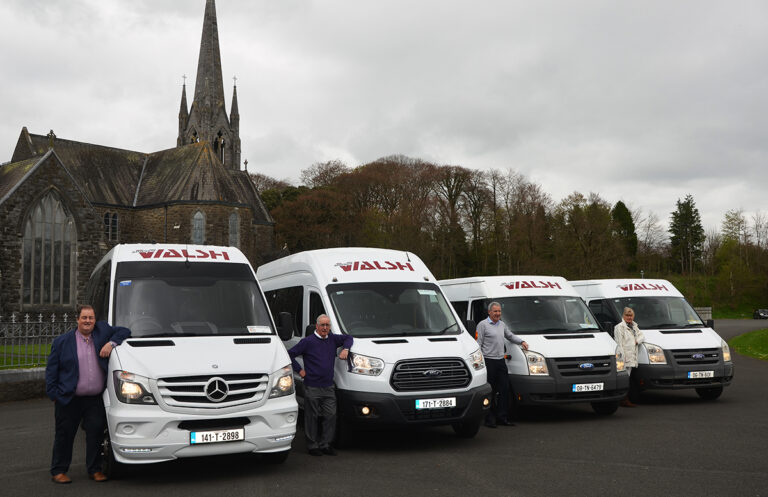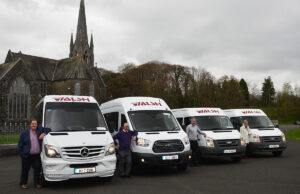 Local Link Laois Offaly wish all the best to Andrew Walsh Bus Hire, his wife Mary and the staff on celebrating 25 years on the road.  Based in Roscrea, Tipperary, Andrew always had an interest in buses and transport and when the wheels began moving on his very own vehicle 25 years ago, he never imagined the name Walsh would become so synonymous with travel in the midlands.
To mark the milestone of their 25th year of successful business, Andrew Walsh Bus Hire have invested in new vehicles and are now offering exciting new luxury tour packages where guides, transport and all your needs are professionally catered for.
The story of Walsh's Bus Hire began in 1992, when Andrew collected his very first passenger – a student travelling to St Anne's school at Sean Ross Abbey in Roscrea.  It was a milestone in his life and a signpost indicating the road he would travel and role he would specialise in for many years to come – ferrying passengers in comfort and safety to the destination and specialising in transporting students on school runs "this was the very start of it and I remember it very well", Andrew, who is very well known throughout Tipperary for his work and his very affable character told a local newspaper.
Over the years Andrew's business has grown to service a large number of schools in the Roscrea, Birr, Nenagh and Borrisokane areas.
Andrew Walsh Bus Hire has provided rural transport services in a friendly, caring and efficient manner for many years.  We extend our congratulations to Andrew's long time serving drivers Joe Ryan and Anthony O'Connor who both have been an integral part of developing the rural transport services for Local Link and building the relationship with the passengers.
Wishing you all many more years on the road ahead.  Happy motoring!!!